FAME Studios
Marie Colurso
Co-founded by the legendary Rick Hall, Alabama owes its mark on the history of American popular music to FAME Recordings.
Location: 603 Avalon Ave, Muscle Shoals, AL 35661
Notable recordings:
"You better move on" – Arthur Conley
"Land of 1000 Dances" – Wilson Pickett
"I've never loved a man like I love you" – Aretha Franklin
royal studios
Location: 1320 Willie Mitchell Blvd, Memphis, TN 38106
Notable recordings:
"Love and Happiness" – Al Green
"I can't stand the rain" – Ann Peebles
"Uptown funk!" – Mark Ronson ft. Bruno Mars
The dungeon
Led by production trio Organized Noize, the Dungeon and its eponymous artist collective Dungeon Family have been the launch pad for careers such as Outkast and Cee-Lo Green. However, the musical dreams all started with the group of Atlanta hip-hop artists brainstorming ideas in a humble home studio below a house owned by producer Rico Wade's mother.
Location: Lakewood Heights, Atlanta, Georgia
Sun Studio
The house that Sam Phillips built near downtown Memphis is also home to early recordings of Elvis Presley. Today, the building houses a comprehensive trail through Southern blues and country history.
Location: 706 Union Ave, Memphis, TN 38103
Notable recordings:
"It's Alright" – Elvis Presley
"How Many More Years" – Howlin' Wolf
"Rocket 88" – Ike Turner
"Folsom Prison Blues" – Johnny Cash
Chase Park Transduction
Specializing in indie rock, Chase Park Transduction may not yet be a much-loved historic landmark, but it's a hub for the hugely popular genre, hosting legendary artists like REM and Queens of the Stone Age.
Location: 160 Winston Dr, Athens, Georgia 30607
Quad Studios in Nashville
Sometimes an iconic song can make a studio legend. This studio has his song: "Margaritaville".
Location: 1802 Grand Avenue, Nashville, TN 3721
Criteria Recording studios
Founded by Mack Emerman in the late 1950s, Criteria continues to be a production powerhouse in heaven for musicians honing their craft in South Florida.
Location: 1755 NE 149th St, Miami, FL 33181
Notable recordings:
"Layla" – Derek and the Dominos
"I Got You (Feel Good)" – James Brown
"Nights on Broadway" – The Bee Gees
926 McLemore Ave East
Affectionately nicknamed "Soulsville, USA" (a nod to their friendly competition with Motown's Hitsville, USA), the studio headquarters of Memphis' Stax Records and its various subsidiaries remained a faded memory for many years, in a devastated corner of the city. South side. Today it has been resurrected – not as a studio, but as a state-of-the-art American Soul Museum, a nonprofit powerhouse dedicated to teaching the legacy built in its halls and charter school for students destined to carry on the tradition. of deep soul – all in the empire built by Isaac Hayes, Rufus Thomas, Otis Redding and more.
Location: 926 E McLemore Ave, Memphis, TN 38126
Muscle Shoals sound studio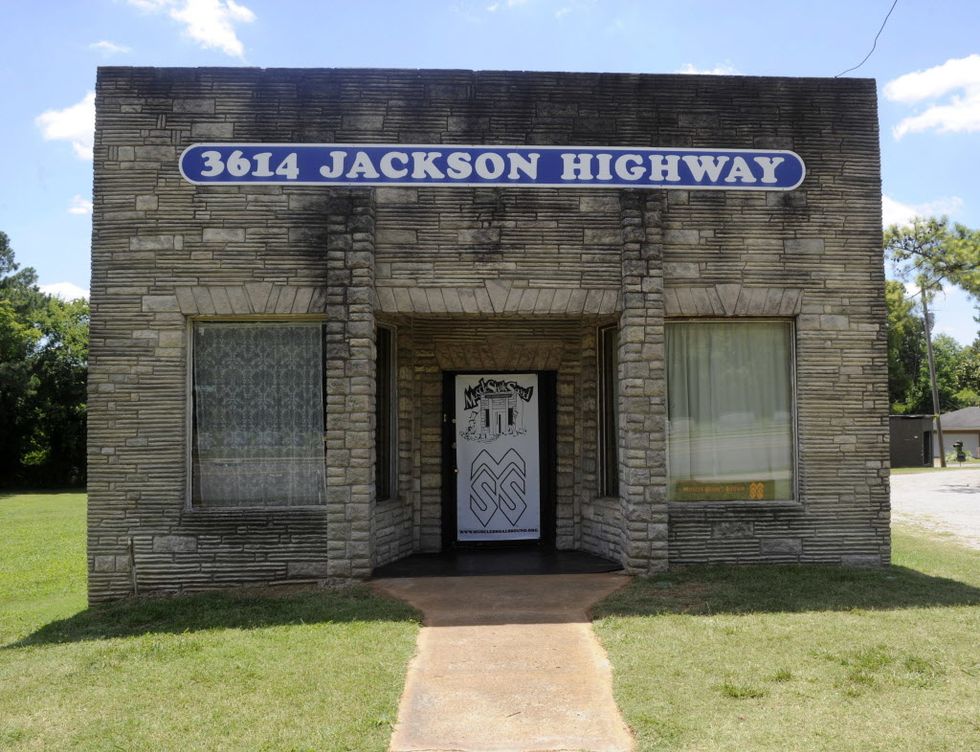 Eric Schultz
Founded by the Muscle Shoals Swampers following their exodus from FAME Recordings, Muscle Shoals Sound has established itself in Alabama's legendary music scribes as a musician-focused environment suited to the essentials of playing in session.
Location: 3614 Jackson Highway, Sheffield, Alabama
Notable recordings:
"Brown Sugar" – The Rolling Stones
"I have to serve someone" – Bob Dylan
"I'll Take You There" – The Staple Singers
RCA Studio A and Studio B
Contrary to what studio names may suggest, Chet Atkins' vision for RCA Studios begins with the building now called Studio B in the 1950s. Studio A was built over 20 years later. Yet between the two studios, the legendary Nashville Sound lives on.
Location: 1611 Roy Acuff Pl, Nashville, TN 37203
Notable recordings:
"All I have to do is dream" – The Everly Brothers
"This is the chance I'm going to have to take" – Waylon Jennings
"Jolene" – Dolly Parton
"Are you alone tonight?" -Elvis Presley
fiery studios
Since 1966, Ardent Studios has been a longtime bastion of cross-genre pollination in Memphis, from Big Star to REM to Yo Gotti and beyond.
Location: 2000 Madison Avenue, Memphis, TN 38104
Notable recordings:
"Alex Chilton" – The Replacements
"September Gurls" – Big Star
PatchWerk Recording Studios
An under-the-radar hip-hop hub in Atlanta, PatchWerk is a hit factory with an impressive resume of outstanding popular recordings over the past two decades.
Location: 1094 Hemphill Ave NW, Atlanta, Georgia 30318
Notable recordings:
"Mrs. Jackson" – Outkast
"You make me want to" – Usher
sonic ranch
The world's largest home studio, Sonic Ranch has hosted some of the biggest names in modern music, such as Portugal's Band of Horses. the man, at the drive-in and yeah yeah yeah.
Location: 20200 Alameda Road, Tornillo, TX 79853
American recording studio
Led by Chips Moman, American Sound was an institution of innovation that remains relatively unrecognized in today's conversation around Memphis music. While Stax and Royal Studios had a stronghold in South Memphis, this North Side facility is a powerful footnote in music history.
Location: 2272 Deadrick Ave, Memphis, TN 38114
Notable recordings:
"Sweet Caroline" – Neil Diamond,
"The Letter" – Box Tops
"Son of a Preacher" – Dusty Springfield
"In the Ghetto" – Elvis Presley
Sea Saint Studios
Co-owned by the incomparable Allen Toussaint in New Orleans' Gentilly neighborhood, Sea-Saint was a vestige of professionalism in one of America's most musical cities.
Notable recordings:
"Listen to what the man said" – Paul McCartney and Wings
"Lady Marmalade" – Patti LaBelle
Morrisound Recording
Morrisound's reign in Tampa cemented the studio as the Southern headquarters for heavy metal music.
Location: 12111 N 56th St, Tampa, FL 33617
SugarHill Recording Studios
Billed as "The Abbey Road of the South", SugarHill is a grassroots recording studio in the heart of Texas.
Location: 5626 Brock St, Houston, TX 77023
Notable recordings:
"Family Bible" – Willie Nelson
"T-Model Blues" – Lightnin' Hopkins
Quonset Hut Studio
Nashville has no shortage of historic country music venues, but The Hut, as this studio was affectionately known, is one of its most iconic.
Notable recordings:
"Crazy" – Patsy Cline
"I'm Sorry" – Brenda Lee
"Blue Velvet" – Bobby Vinton
Related articles on the web